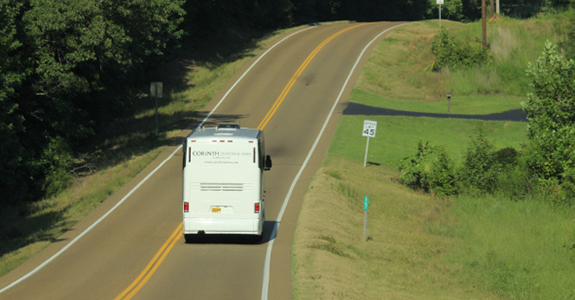 Charters & Tours Mississippi, Tennessee, and Alabama
Since 2001, Corinth Charters and Tours has been helping groups get where they need to go, and making sure they are comfortable, engaged and happy in the process. We believe in catering to our customers, whomever they may be, and that is apparent in the quality and range of our services. Here is a closer look at what we can offer you and your group.
If you belong to a group that is looking for bus tours, Corinth Charters and Tours can accommodate your needs. We serve all kinds of clientele, all of different ages, interests, needs, and preferences. Some of our most frequent clients include:
Schools
Church groups
Sports events
Student groups
Business groups
Weddings
Teacher groups
Senior citizen groups
Public and private tours
Corinth Charters and Tours offers bus charter service throughout Mississippi, Tennessee, and Alabama. You decide where you want to go and we'll take you there! We don't just provide transportation; we can provide a full tour experience, with any and all of the following services:
Transportation
Guided tours
Private group security
Detailed itineraries
Lodging
Venue reservations and tickets
Meals
Arranging performances
Please get in touch with Corinth Charters and Tours today to learn more about how we can help you enjoy a successful event or trip, without all the stress of planning it yourself. You can give us a call at Phone: (662) 287-4995 for more information. We look forward to hearing from you.