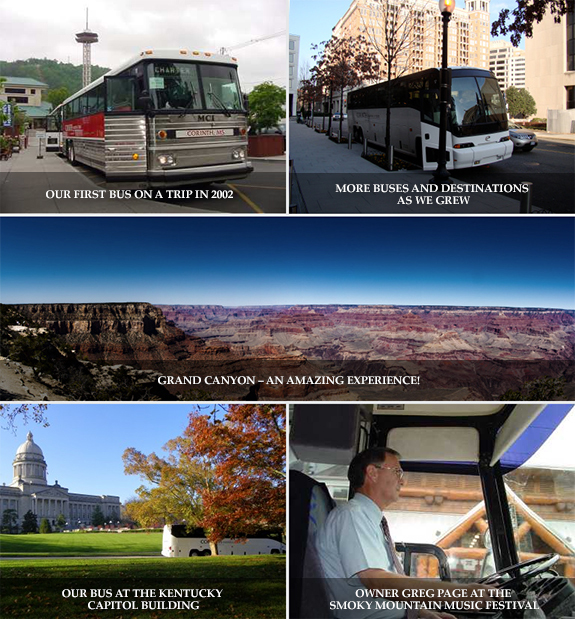 After serving for 35 years as a band director in Mississippi and Alabama, Greg Page was ready for a new challenge. Beyond the joys of teaching and the thrills of musical performance, Mr. Page loved travel as one of the most important facets of his professional career. As a teacher and as a charter bus driver, he had been an active participant in all the aspects of group travel — from the usual away games to European tours. He set out to parlay the wisdom of many hard and happy years into a trip-planning service that would cater to band directors and teachers who wished to offer their students amazing, hassle-free travel experiences. Mr. Page would help these educators with all stages and minutiae of planning, from creating workable itineraries to booking appropriate lodging, from arranging performances to making a memorable trip on a tight budget.
Page Travel Service was incorporated in October 2001. As a family business, it was first run from a simple home office. Within six months, the company expanded to include Corinth Charters and Tours, a division devoted to charter bus services. It was a true family business from the beginning, with Mr. Page and a few part-time drivers running the buses and Mrs. Page managing most aspects of the office in addition to her full-time duties as an elementary teacher. On weekends and during school breaks, sometimes Mr. and Mrs. Page and their two children could be found working together to set up a new office space, clean buses, organize files, or send off groups to a variety of destinations.
Eighteen years later, the business has expanded to include group travel of all kinds, from student groups to corporate clients to disaster relief. One thing that has not changed is the personal touch of a family business. Every client is valued, and we strive to maintain the standard that every passenger who steps onto one of our motorcoaches is treated as if they were an honored guest in our own home. It is extraordinary customer service that has made our name trusted throughout the Midsouth, and it is an extraordinary pleasure and pride to serve you. If you're in Corinth, Farmington, Tupelo, or Jackson, MS, we hope you contact us soon.