Bus Charters in Corinth, MS
Corinth Charters and Tours has been the premier group travel and transportation service for the city of Corinth, MS and the surrounding areas for over 15 years. We are proud to be a successful local, family-owned and operated small business.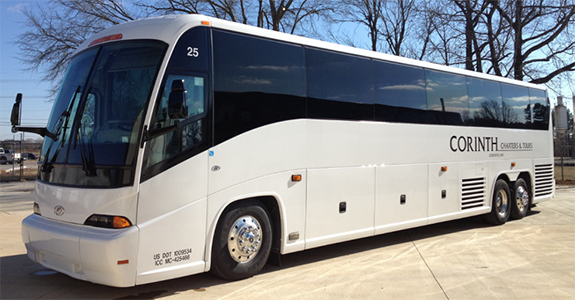 Bus Transportation in Mississippi, Tennessee, and Alabama
Are you a teacher who needs a memorable field trip for the entire fifth grade? Are you a church group on a mission? Does your corporate group need bus transportation to a conference? Is there a big family wedding that needs to be shuttled from rehearsal to dinner or ceremony to reception? Do want to cheer on your team at the playoffs? Is your choir planning a tour?
Some of the most exciting and fun moments of your life can involve bus charters. Think of the youth sports games you have traveled to, the fun and educational field trips you have embarked on, the spiritual retreats you have explored and the destination weddings you have attended. Most of these events and trips were made possible by chartering a bus in Mississippi, and Corinth Charters and Tours might have even been the charter company you used. After all, our history as a local, family-owned and operated small business has been serving the greater Corinth, Farmington, Tupelo, and Jackson, MS areas since 2001.
We've done it all, and our fleet is here with years of experience to help you plan a wonderful trip. From bus charters to fully planned tours, at Corinth Charters and Tours, our business is to help your group get where they need to go safely, do the things they want to do, and have a great time traveling, all without stress or hassle.
We specialize in planning group travel and bus transportation. Our bus services include bus charters, transportation, lodging, meals, guided tours and more. Whether you are a school, church group, wedding party, business group or sports team that needs transportation, we can take care of your full itinerary. In fact, we encourage customers to let our experienced staff handle all the details, so you can focus on having a memorable trip. Trust Corinth Charters and Tours with your next bus rental and contact us now, or check out our motorcoach policies and FAQ.
We are a local, family-owned and operated small business in Corinth, MS.
Our family has been providing bus services throughout Mississippi, Tennessee, and Alabama for over 15 years.
We cater to schools, event hosts, wedding parties, church groups, sports teams and more.
Our staff can handle full itineraries, including lodging, meals, guided tours and more.
You can count on us for fair and honest rates.
---
Areas Served
Bus services for the communities surrounding:
Corinth, MS
Tupelo, MS
Oxford, MS
Amory, MS
Starkville, MS
Columbus, MS
Iuka, MS
Belmont, MS
Hernando, MS
Senatobia, MS
Grenada, MS
Ripley, MS
Florence, AL
Hamilton, AL
Vina, AL
Huntsville, AL
Russellville, AL
Jackson, TN
Memphis, TN
Nashville, TN
Henderson, TN
Selmer, TN
Brownsville, TN
Scotts Hill, TN
Mississippi
Alabama
Tennessee